PDF: The life of the Mimetic Starfish, 2000–2012. (Artificial life, 21(3), pp.285-288. MIT Press 2005)
---

July2012
The Mimetic Starfish exhibited at the last Emocao Art.ficial (6.0) Biennial in Sao Paolo, Brazil....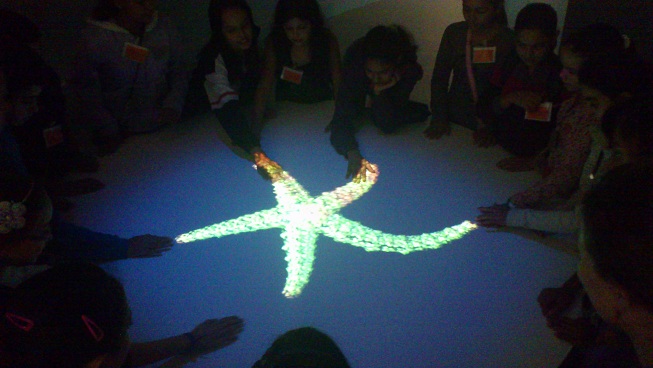 Emocao Art.ficial 6.0
YouTube Video
---


Neural Net Starfish in the Millennium Dome 2000


Developed at the RCA under the umbrella Art As A Mode of Enquiry
---

Kinetica, a new gallery for kinetic art
Spitalfields, London: October - November 14th 2006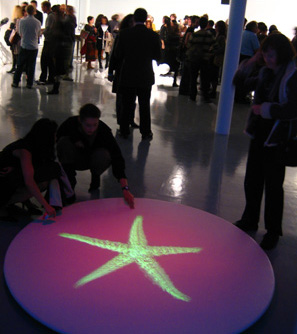 short video of kinetica artworks (including starfish)


---

BLIP art-science festival, 2004
Big Blip 2004 - Festival of creative art, science and technology,
Brighton and the Newlyn Gallery, Cornwall, September - October 2004.
BLIP art-science forum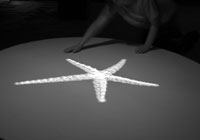 ---

Peterborough Digital Arts: 2003
Free-fall - an exhibition of digital works curated by Mike Stubbs.
Peterborough Digital Arts April/June 2003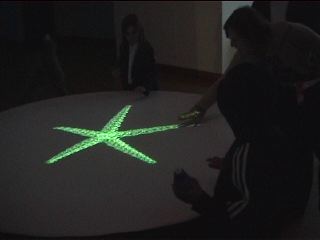 click for real movie
---

Melbourne, Australia - September, 2002:
Prototype - an exhibition by Experimenta of accessible interactive artworks at the BlackBox, 5 – 21 September 2002.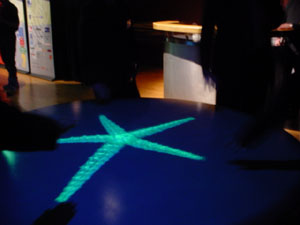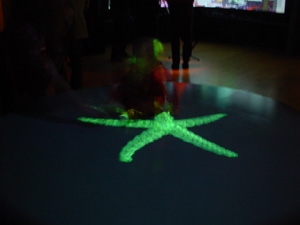 ---

Toronto, Canada - May, 2002:
Interaccess gallery in conjunction with the Subtle Technologies conference.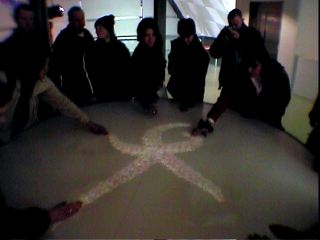 | mpg movie 320x240 (2mb) | QT movie 160x120 (535k) |
---
Millennium Dome, Jan-Dec 2000:

"The Mind Zone does contain the best bit of the entire dome: the Neural Net Starfish.
A-larger-than-life, gold, 3-D starfish has been somehow incorporated into a marble table top.
It is incredibly lifelike and responds to human contact by retracting disdainfully
or stretching out a tentacle in friendship when a hand approaches"
The Times, Saturday, 8th January, 2000.